Urgent Relief Needed
2020 was a year like no other, and as they try to move on, the people of Los Cedros and the students at Colegio Cristiano Havila find themselves at an unprecedented intersection of desperation and hope.
Two hurricanes ravaged Nicaragua in November.  Los Cedros was not in the direct path of either one, but it was close enough to take on wind and heavy rain for more than two weeks.  The resulting damage to roads and buildings has further strained an already crippled economy, and the need for humanitarian relief is as great as ever.
That was last year, but hope for a better future is very much alive.
Through it all, Havila continued operations, and in December it celebrated its first high school commencement.  The 14 graduates have overcome all the reasons a young adult might drop out of school in rural Nicaragua, and all of them have plans to attend college this year.
Most of them will need considerable help to do so, and UNIDOS has set up a college scholarship fund for that purpose.  These amazing young men and women are capable of bringing real change to their community if they have the right tools and support, and we want to help them get there.
Please consider a one-time gift to a college scholarship fund for these worthy graduates and those in the future and also to provide humanitarian relief as the Nicaraguan economy tries to recover.  Both of these needs are critical and urgent. 
Your donation will help fund the ongoing needs at the Havila School as well as college scholarships for qualified graduates.
Sponsorship payments will continue to support the operation of Havila Christian School.
To donate by check, make your check out to "UNIDOS Nicaragua" and mail it to:
UNIDOS Nicaragua
9805 NE 116th Street
PMB #7493
Kirkland, WA  98034
Frequently Asked Questions (FAQ)
Because of your generosity, our partners in Los Cedros have been able to serve their community in a number of ways.  Since May of 2020 they have provided food and other basic necessities to more than 90 families.  These deliveries typically include rice, beans, sugar, salt, soap, Clorox, masks, and toilet paper.  In addition, our partners have helped many families pay for medications, hospital expenses, refilling oxygen tanks, and, sadly, funeral expenses.
Your donations may be tax deductible, and you will receive a giving statement from UNIDOS Nicaragua.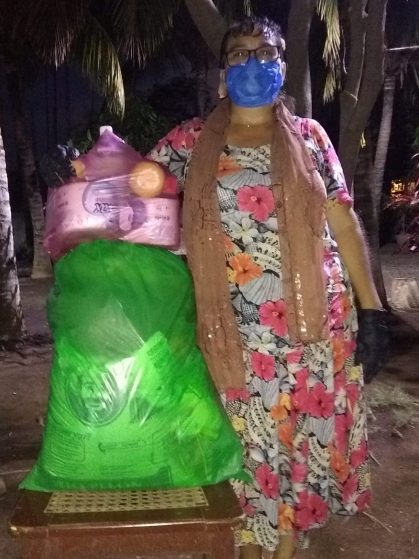 Your donation helps feed the people in Los Cedros.